As an academically trained painter, I employ the methods and materials of the 19th Century and of the Old Masters in my portraiture as taught to me through a direct master/pupil lineage dating back to the beginnings of the French Academy. Whether painting commissioned work at my studio in Charlotte, NC, at my studio in Lucca, Italy, or at the client's chosen location, it is always my utmost goal to create a timeless museum quality painting using only the finest Italian linen along with the highest quality materials available in the world today.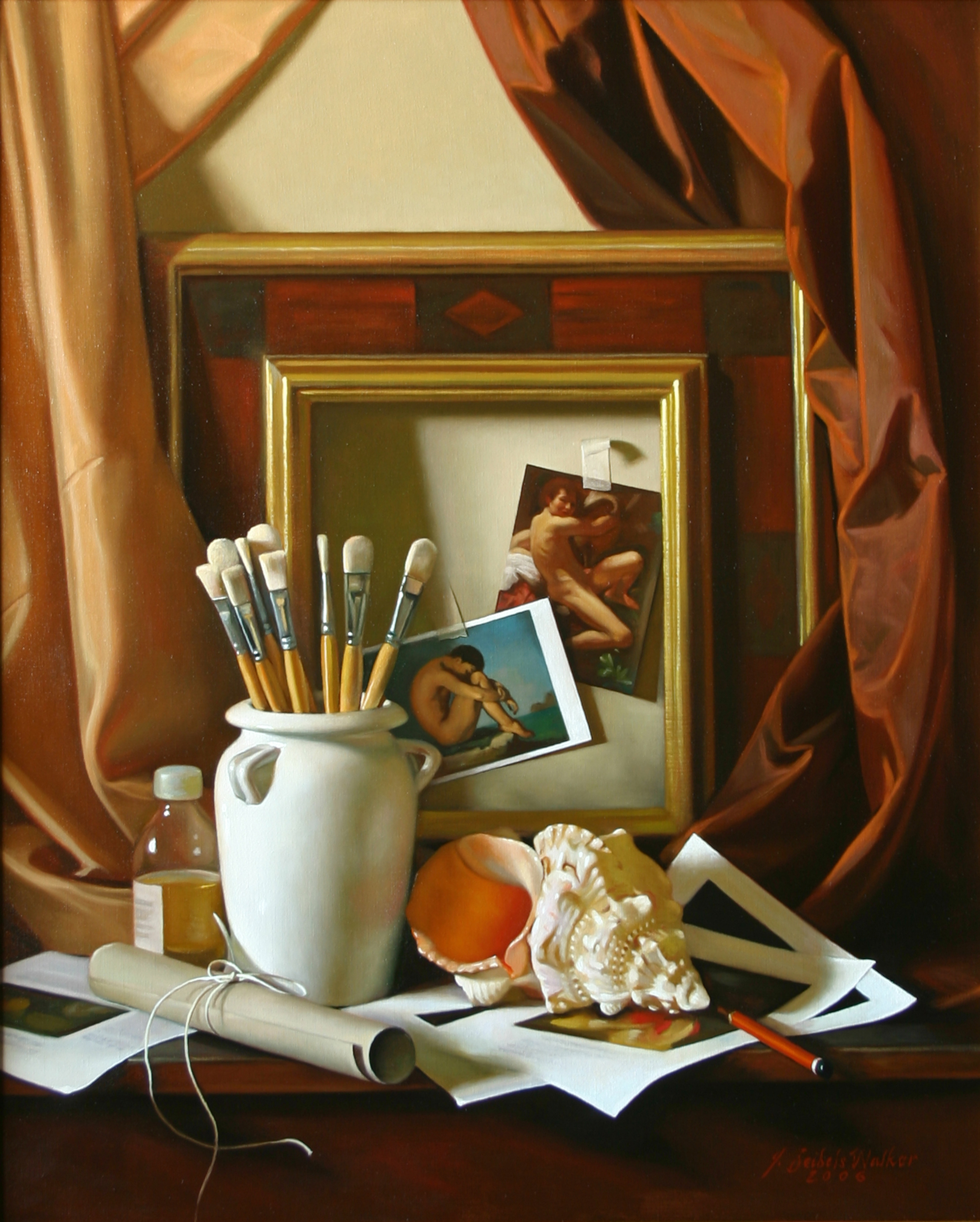 I frequently paint from life – either in one of my studios or on location (when lighting conditions are deemed suitable). Through my training and extensive experience painting from life, I am also able to successfully use my photography as a primary reference. Like traditional academic painters, I paint utilizing natural light – preferably from a high north window. When working on location, I always prefer to work under natural lighting conditions as well, but if required, I will employ the use of a very fine daylight balanced LED light panel for these sittings when adequate natural light is not available. This can certainly facilitate better photography and allow for working in more challenging settings.
"Inspirations in the Lucca Studio"
Oil on linen, 31 ½ x 25 ¾ inches
A typical life-size, three-quarter length oil portrait painted from life sittings will require approximately 6-10 three hour sittings. Obviously, fewer sessions would be necessary for a bust or half-length portrait. Working from life is a method more often chosen by adults who enjoy participating in the portrait process, and it ensures that their closely observed personality and the resulting expression of life, light, and atmosphere energize their portrait. They receive not only a portrait, but also an interesting life experience.
However, the use of photography as a primary reference has become a necessity with many adults and most children in our busy world today. When used with the correct experience, along with the careful staging of the subject, photography can successfully provide excellent primary information for the creation of a portrait. Within a day or two, a large selection of images can be created and reviewed and then final decisions made as to a portrait's direction. I insist on taking enough time to ensure that I have observed the subject well and that the client is excited about all of our choices. This involves discussing with the client what will best work as a beautiful portrait from the final photographic information selected by us both while guiding them in the process of differentiating between what leads to a fine portrait and work of art as opposed to what is just a good candid photograph.
Whether working completely from life or photographic references, it can often also be useful to create a small color study of the portrait to aid in the painting process, especially with larger and more complex compositions. Upon request, I will also offer any portrait color studies to the client for sale.
Through utilizing these time-honored methods and materials, I always strive to form a partnership with the sitter to create traditional portraits of distinction – true works of art that will communicate something very special to viewers for generations to come.
Fees:
Portrait fees begin at $10,000.
Please contact the artist below or by phone at 704 338 9613 for further details.