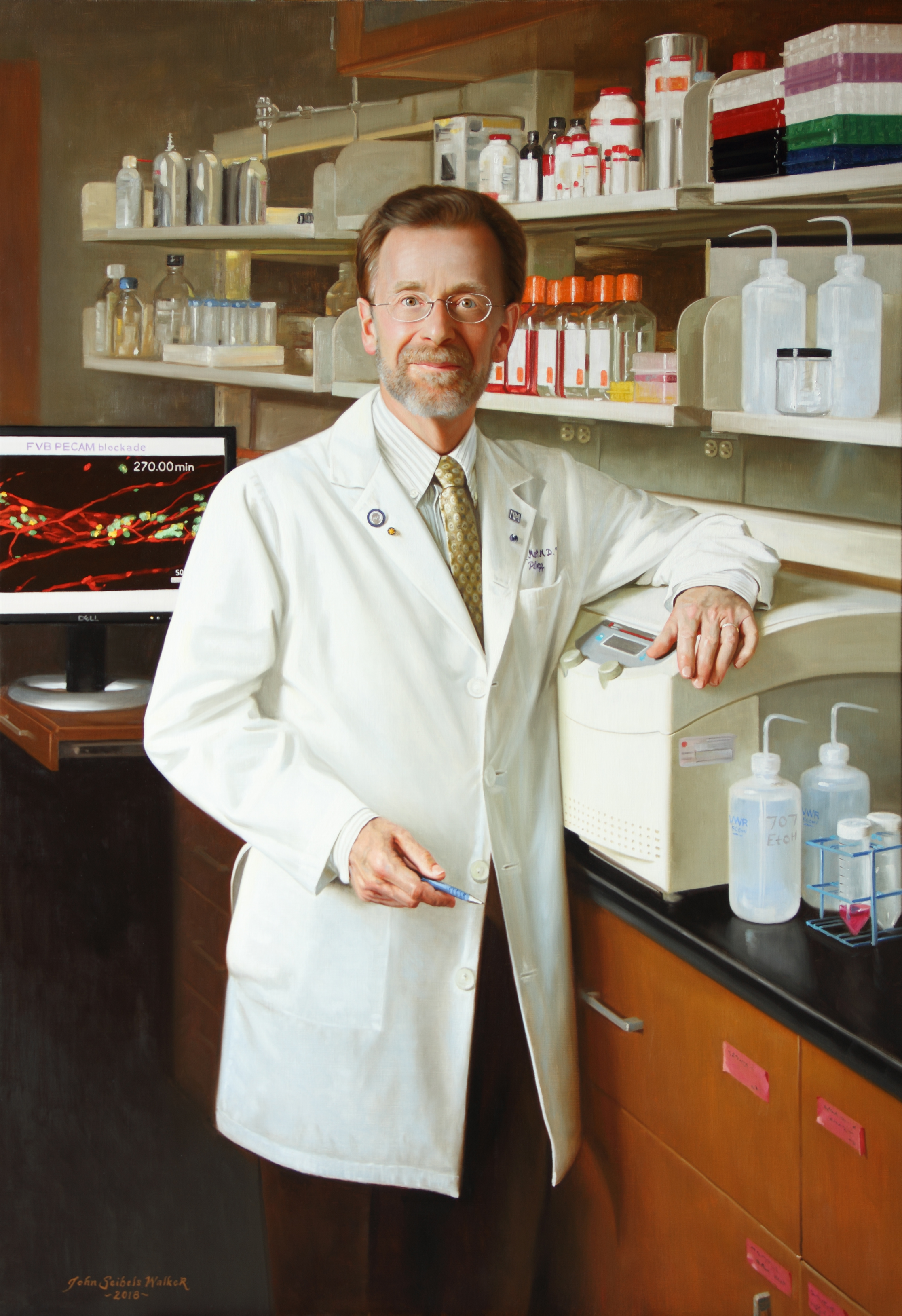 Profiles In Portraiture
by John Seibels Walker
When I was first contacted to paint the official portrait of Dr. William Muller for Northwestern University, I immediately imagined all of the artistic possibilities of capturing an accomplished research scientist at work in his unique world – a scientific lab.  I was thrilled to learn upon our very first conversation that this was also Dr. Muller's vision for his portrait.  
Although his multifaceted career has had him balancing the teaching tasks of academia and actively performing the duties of a researcher and pathologist for many years, my portrait was commissioned to honor Dr. Muller's nine years serving as Chair of the Pathology Department at the Feinberg School of Medicine where his primary research continues to center around the study of inflammation at the cellular and molecular level.
Upon entering the lab, I observed a large wall of north facing windows providing a beautiful "artist's light" to the area where Dr. Muller worked with his trainees in their various areas of research and it was in this raking natural light that the portrait was staged.  Dr. Muller is shown with his left arm resting on a centrifuge with shelves full of assorted containers and solutions surrounding him.  On his lapels he wears four different pins of special significance.  From upper right, clockwise:  the Northwestern Medicine "NM" logo, a rosette pin signifying the Magerstadt Professorship of Pathology which he held while Chair of the Department,  a rosette pin signifying election as a Fellow of the American Academy for the Advancement of Science, and one of several outstanding teacher pins that he has been awarded by Feinberg School of Medicine.  As the atmosphere of the lab darkens behind him, one sees a computer monitor showing a very specific image.  This image depicts a particular moment of the inflammatory response at the cellular and molecular level, referencing Dr. Muller's research and study of the regulation of diapedesis:  the "point of no return" in the inflammatory response where white blood cells squeeze between the endothelial cells that line the blood vessels at the site of inflammation.   With most diseases due to or involving a significant component of inflammation, finding a way to control the inflammatory response could lead to a significant breakthrough in therapeutic intervention. 
It is my sincere hope that this portrait will honor Dr. Muller and the important research that he is a part of for many years to come.
The portrait is life-size, oil on linen, and measures 58 x 40 inches. It will hang in the collection of Northwestern University, downtown Chicago IL.