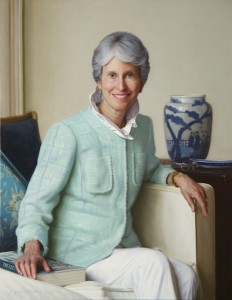 Profiles in Portraiture
by John Seibels Walker
This life-size oil portrait of Liza was commissioned by Columbus School for Girls in Columbus Ohio in recognition of her recent tenure as Head of School. 
I strove to represent Liza's very vibrant and dynamic personality by capturing her frequent smile and by alluding to a sense of action in her pose.  
She is definitely not a woman to sit still for too long!  
The light and airy colors depicted represent the lasting legacy of her redecoration of the historic residence on campus that is used for the Head of School.  Liza is originally from New York where her grandfather imported fine oriental porcelain, a few pieces of which are depicted on the table beside her left hand.  Her right hand rests upon a copy of the hugely successful first cookbook The Lee Bros. Southern Cookbook , written by her two sons. This book also represents her time living and working in the south while raising her sons and a daughter in Charleston, SC.
The painting now hangs amongst a fine collection of portraits in the historic administration building on the campus of Columbus School for Girls.