DECEMBER 19, 2012 OFFICIAL PRESS RELEASE:
THE OFFICIAL PORTRAIT OF BEVERLY EAVES PERDUE, FIRST FEMALE GOVERNOR OF NORTH CAROLINA, HAS RECENTLY BEEN UNVEILED BY CHARLOTTE SOUTHEND ARTIST, JOHN SEIBELS WALKER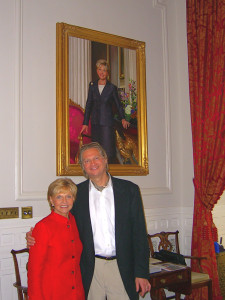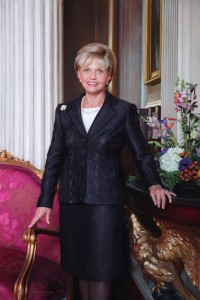 The privately funded official portrait of NC Governor Beverly (Bev) Eaves Perdue was formally unveiled at a ceremony held at the Executive Mansion in Raleigh in December in recognition of her service as the 73rd governor of the state of North Carolina. Although the NC Department of Cultural Resources considered portrait artists located nationally, Charlotte based artist John Seibels Walker was honored with being chosen for the project.
The painting is a life-size, oil on linen, 3/4 length portrait in a custom designed frame.
The frame was also created in NC, by the frame maker Edward Wright, complete with dogwood blossoms matching the Governor's pin of the NC state flower worn in the portrait.
The portrait sitting was staged in the grand entry hall of the historic NC Executive Mansion with its columns providing a stately traditional setting for the portrait, along with several elegant antique furniture pieces from the Mansion's permanent collection being utilized. The bright crimson brocade fabric on the sofa and the floral still life on the table were chosen to speak of a woman's presence in office as the first female governor of the state. Service to both state and country are further symbolized in the use of the gilt eagle table base.
In attendance at the unveiling ceremony were Secretary Linda Carlisle and Deputy Secretary Melanie Soles of the NC Dept. of Cultural Resources, members of the Governor's Cabinet and staff, along with several of the private donors and members of the Executive Mansion Fine Arts Committee.
The portrait now hangs at the front of the entry hall of the Executive Mansion amongst several other portraits of past Governors as part of the NC Historical Archives Collection.