PROFILES IN PORTRAITURE
by John Seibels Walker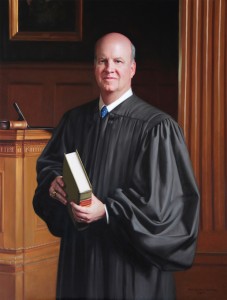 PORTRAIT OF

THE HONORABLE ROBERT J. CONRAD, JR. CHIEF UNITED STATES DISTRICT JUDGE WESTERN DISTRICT OF NORTH CAROLINA
The artistic conception for the official portrait of Judge Robert J. Conrad, Jr. began after a search around the federal courthouse in Charlotte NC while observing the natural lighting in various locations. In pulling up the old blinds on the beautiful large north windows of the "Robert D. Potter" courtroom, a courtroom named after Judge Conrad's mentor, an attractive light fell on the area near the bench where the Judge steps down for a side bar with attorneys. In that way, a meaningful location in the stately courtroom was chosen as the setting for this portrait. Depicted behind Judge Conrad are a modern computer/notebook and a gavel and block up on the rail of the bench. The computer references the courtroom technology which the Western District of North Carolina is known for under Judge Conrad's leadership and the gavel represents the historical authority of the Judge at his bench. A point which the artist was acutely aware of, while serving as a juror in one of the first trials presided over by Judge Conrad!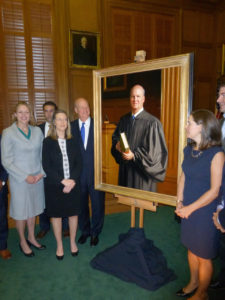 Judge Conrad is a warm and engaging man who is full of interests and passions and this portrait strives to capture that warmth and wit, along with his compassion and intelligence. In his hands is a special edition of the Federal Supplement which contains an "in memoriam" to his deceased friend and fellow Judge, The Honorable H. Brent McKnight, who was nominated to the Court on the same day as Judge Conrad, but was only able to serve a little more than a year before succumbing to cancer. In this way, Judge McKnight is also honored and remembered in the portrait. Their being a book held in Judge Conrad's hands also refers to his passion for collecting vintage books and his appreciation for fine literature and reading.
Judge Conrad's Clemson ring is depicted on his right hand symbolizing his loyalty to his Alma Mater, where he enjoyed playing on one of Clemson's finest basketball teams. His left hand shows a glimpse of his wedding ring, a symbol of his strong faith and love for his wife, Ann, and five children.
The portrait is life-size, oil on linen, and measures 48 x 36 inches. It will become part of the permanent collection of the Charles R. Jonas Federal Building in Charlotte, NC where it will hang amongst numerous other portraits of distinguished judges in the Court's history.